Following our event discussing how AI is revolutionising the talent sector, a number of conversations centered around the future of software.
While AI presents a number of opportunities across the sector, there are also many concerns that are stopping organisations from using the tools available. A large part of the conversation focused on concerns around AI in talent acquisition and how they can be combatted, including:
AI in recruitment
Will AI make jobs redundant?
Ensuring AI is used efficiently and effectively
Read on to read the key takeaways from their conversation.
AI in recruitment
There are lots of conversations around how AI can change recruitment and talent sourcing. One speaker shared their experiences with one talent sourcing tool in our previous blog from the event – "How will AI revolutionise talent acquisition?".
However, there are also some concerns around the use of AI in recruitment.
Diversity
A big concern around AI in talent sourcing is around diversity.
"There is a huge amount of AI bias purely based on who has done the coding."
Ever since technology has been more regularly used in recruitment and hiring processes, there have been concerns around data bias. Software, such as CV and interview screening tools, have been plagued by bias from the beginning and too much reliance on these tools can result in a lack of diversity.
This is now a concern that is being carried over to the growth of AI.
The HR Leaders present shared the importance of not including AI throughout the entire recruitment process, and instead being selective with how Artificial Intelligence be deployed.
For instance, you could use AI to automatically update candidates on when they can expect to receive feedback. However, the actual feedback should be given from the recruiter or hiring manager to ensure strong candidate experiences.
Will AI make jobs redundant?
The current view on this topic is that AI will not be making any job titles redundant in the short to medium term. However, it can't be denied that some are concerned about their future career prospects.
"There are going to be people in roles who are looking at AI and thinking, 'What am I going to do?'"
Those in certain skill sets, such as engineering, are evaluating their options, considering whether they…
Change career paths
Upskill their AI knowledge
It's important, as a Talent and HR professional, to be aware of how these concerns may impact your company's culture and mindset towards AI. If apprehension spreads around the company, teams might be more reluctant to adopt AI even if it's beneficial to them. They might also be concerned about their own career prospects, so you may have to plan how to manage these concerns.
Managing fears of AI
Many of our leaders agreed that education is the best way to manage fears of AI, especially with the press, mainstream media and social media largely focusing on the negatives of this new technology.
One HR leader shared how they have decided to challenge the concerns surrounding AI. They've chosen to highlight the scariest parts of Artificial Intelligence and address them head on, sharing how they're going to overcome their teams' very real concerns.
The external view of AI
Interestingly, our HR leaders also shared how they're adverse to being contacted by AI. There are clear signs to tell if you have been contacted by a computer generated, automated message. It's important to recognise that many are becoming suspicious of messages and can be frustrated when they receive an AI written message.
There are ways around this, and many are looking into how they can ensure automated messaging is more tailored, perhaps offering a phone call at the very start of the message.
However, at the end of the day, even with everything available at our fingertips, human connection is still the most effective talent strategy.
How to ensure AI is used efficiently and effectively
There are many ways that AI can help improve your workflow. However, with so many AI tools out there and lots of different ways to use them, it can be easy to use them ineffectively. Without any guidance or structure, it can be easy for your teams to waste time learning and using the wrong tools.
"If it is causing people to be distracted, that is a huge problem."
One HR leader shared the importance of creating guidance around how, why and when employees should use these tools in order to minimise ineffective use.
Maintaining employees' sense of worth and achievement
AI can certainly be useful in start-ups and high-growth organisations. Where teams are having to balance lots of different tasks at once, automation can improve their processes greatly. However, in bigger, more-established businesses, there is a danger that AI can damage your employees' sense of worth and achievement.
Monotonous tasks that once took hours of attention and dedication, could now be greatly reduced thanks to AI and automation. If your employees' goals and/or sense of achievement relies on one task, they may feel diminished by the introduction of AI in their role.
Removing the need for monotonous tasks
This point was quickly challenged by another of our attendees, however, as they raised the importance of removing monotonous tasks in the first place.
"Using AI frees us up to do all of the other stuff that we should always be doing but never get to do."
Removing repetitive administrative work, through AI or other means, allows members of the team to spend more time on value-add projects. This could include workforce planning, internal mobility, DEI and employer branding. One HR Leader shared the opportunity that AI presents to free up time to spend on making improvements, rather than simply putting out fires every day.
There is a clear need for balance when it comes to improving processes and making work more efficient through the use of Artificial Intelligence. While undeniably beneficial, it's important for HR and talent teams to be aware of how they can maintain their employee's sense of achievement when introducing new technologies, such as AI.
A big thank you to our HR Leaders
A big thank you to all of the HR Leaders who attended and contributed to this event, we hope you found it as useful and interesting as us. If you missed out on this event, but are interested in joining us at the next one, please get in touch at hello@seekhr.co.uk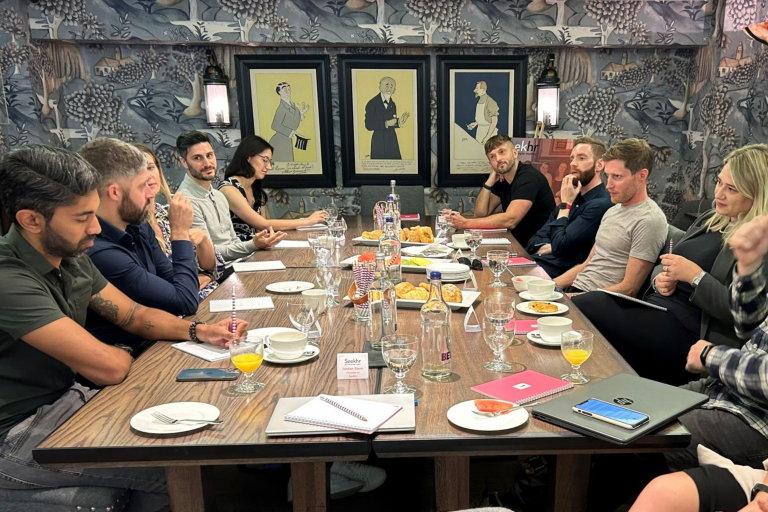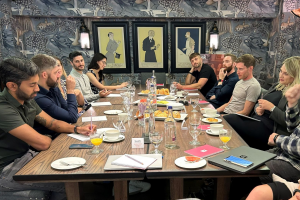 For your people recruitment needs, get in touch!
Seekhr is a recruitment agency specialising in people and talent hires, get in touch for support with your recruitment needs.